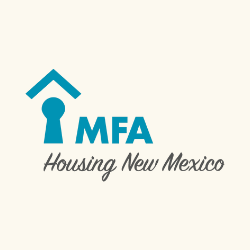 MFA Launches Resident Housing Survey to Support Statewide Housing Strategy Development
Now through Monday, Feb. 28, the New Mexico Mortgage Finance Authority (MFA) is inviting New Mexico residents to complete a short, confidential, housing survey that will help identify and address housing needs across the state. All eligible survey takers will be entered into ongoing drawings for the chance to win one of five $100 gift cards.
The survey takes approximately 10 minutes to complete and can be accessed in both English and Spanish at: https://housingnm.org/advisory-committee-housing-strategy/resident-survey
The survey is open to all New Mexico residents including individuals who are public housing authority renters, market rate renters, prospective homeowners, existing homeowners, residents of Tribal lands and individuals experiencing homelessness. The survey is not associated with voting or any ballot issues.
"The survey is designed to help us determine residents' housing needs and solutions that would work best to address those needs," said MFA Research and Development Manager Sonja Unrau. "The survey will also supplement quantitative data to provide us with a more complete picture of housing issues for both urban and rural areas of the state."
The survey is a part of the MFA-led initiative to develop a statewide housing strategy that will analyze and project the state's housing needs, engage the public and stakeholders, assess barriers to affordable housing development, review housing resources, and recommend statewide, regional and local strategies to solve affordability issues. The strategy is being developed collaboratively by a diverse committee of stakeholders from across the housing spectrum in both the public and private sectors.
"This initiative is the first of its kind, so we're excited to bring together partners from throughout the industry to help develop practical solutions to the housing issues facing the state," said MFA Senior Director of Policy and Planning Rebecca Velarde. "The data we're collecting, combined with the ongoing efforts of the committee, will help us and partners respond to housing challenges impacting so many New Mexicans."
Once completed, the statewide housing strategy will serve as a tool for policymakers, local and state governments, advocates, and housing professionals to craft policies and program framework to respond to New Mexico's housing needs.
Individuals who require an accommodation to participate in the survey can contact: frankie@rootpolicy.com or call (970) 880-1415. An example of a reasonable accommodation would be taking the survey by phone.