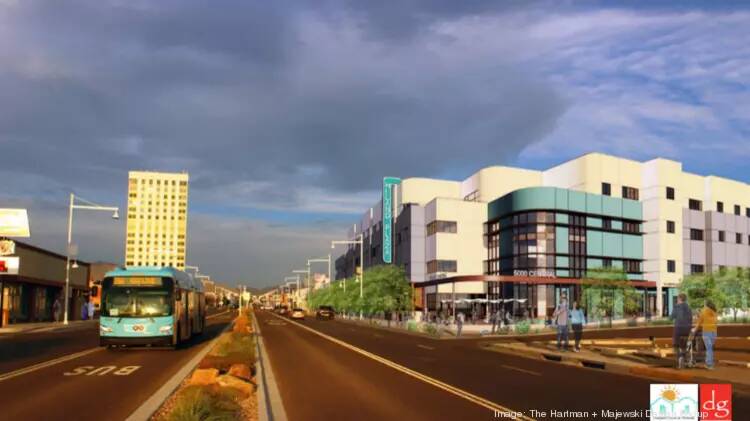 Affordable Apartment Project Planned Along Central Avenue Near Nob Hill
Curated from: Albuquerque Business First. Story by Ron Davis, reporter at Albuquerque Business First.
Following the city's investment in the Albuquerque Rapid Transit line, the Greater Albuquerque Housing Partnership has another apartment project planned along Central Avenue.
Felipe Rael, executive director of the partnership, told Business First his organization is planning a 92-unit, 80,000-square-foot apartment project on the southeast corner of Central Avenue and Jackson Street. The four-story building, dubbed Hiland Plaza, will be shaped like an "L" and accommodate those in need of affordable housing, he said.
If that sounds familiar, it's because just five months earlier the Greater Albuquerque Housing Partnership and partners broke ground on the Luminaria Senior Community. That project is also 92-units. "L" shaped, and four stories tall. It is located at 10600 Central Ave. SE.
Rael said the city of Albuquerque, New Mexico Mortgage Finance Authority and the Albuquerque Housing Authority have partnered with his organization for the Hiland Plaza. In total, Rael said the project will cost $19.2 million.
Hiland Plaza will be made up of one-bedroom, two-bedroom and three-bedroom units and includes 2,000 feet of commercial space for rent on the ground floor. Families who earn 60% of the median income in Bernalillo, Sandoval, Torrance and Valencia counties will make up 85% of the apartments. The remaining 15% will be market- rate units.
The non-market rate units range from $388 up to $744 on one bedrooms; $466-$896 on the two bedrooms; and $539-$1078 on the three-bedrooms units. Market-rate units will start at $975 and up to $1,235, according to the Greater Albuquerque Housing Partnership's application with the Development Review Board.
The proposed address is 5000 Central Ave. SE.
"What we're looking to do is activate that streetscape along Central in that first 150 feet along Jackson to have that much more commercial feel," Rael said.
The project is set to be heard by the DRB on Wednesday.
As of Tuesday, Rael estimates that Hiland Plaza will break ground in the first quarter of next and be operational by the second quarter of 2023. He estimates it will take 12-15 months of construction, adding that Albuquerque-based companies Jaynes Corp. and Hartman + Majewski Design Group have been chosen as the project's general contractor and architect, respectively.
The Luminaria project is ahead of schedule and is expected to be complete by the fourth quarter of this year, Rael said. Pre-leasing could start by October. He expects it to be operational by the end of the year or in January 2022.