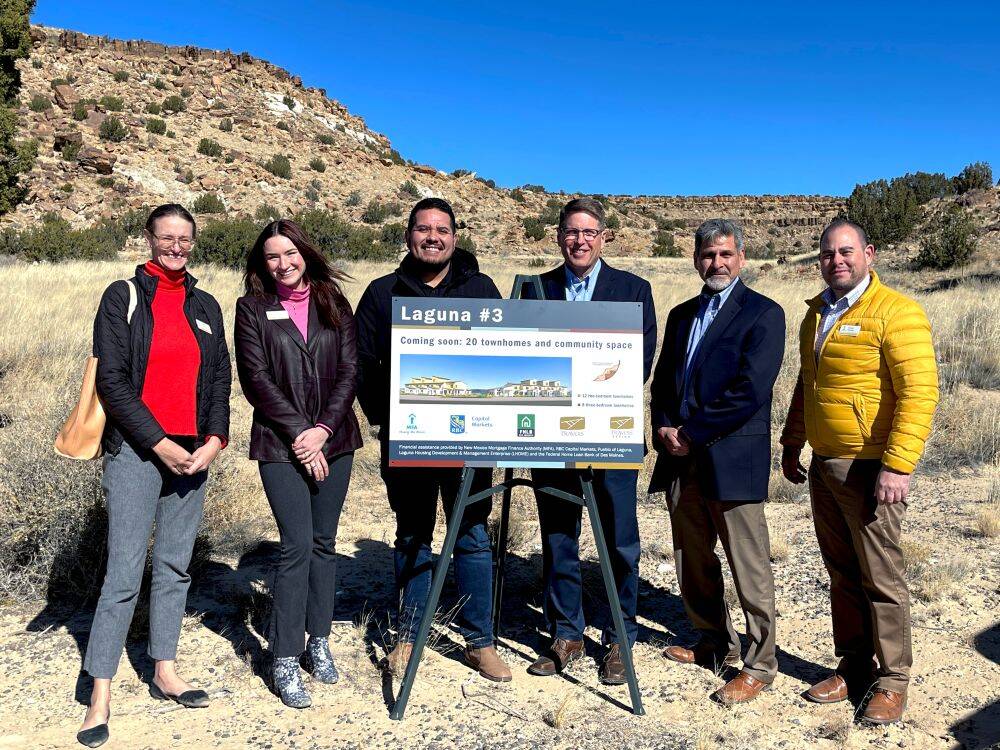 MFA-Funded Affordable Housing Development Breaks Ground in Laguna, NM
MFA-Funded Affordable Housing Development Breaks Ground in Laguna, NM
ALBUQUERQUE, NM —About a year after receiving $936,397 in Low-Income Housing Tax Credit (LIHTC) funding from the New Mexico Mortgage Finance Authority (MFA), the $15-million, 20-unit Laguna #3 affordable housing project broke ground Tuesday, Jan. 31, on the Laguna Pueblo in Laguna, New Mexico. The development is expected to be complete by Fall 2024 and will be the first new affordable housing development built in the Laguna Pueblo since 2005.
"Given the lack of affordable housing across the state, this development is a win-win situation for the state and the Laguna community," said MFA Executive Director/CEO Isidoro Hernandez. "We're proud to see our continued partnerships and investments in affordable housing coming together to strengthen communities throughout New Mexico."
The Laguna #3 project was one of six projects awarded tax credit funding through MFA in 2022. Using the tax credit funding from MFA, the Laguna #3 project generated $7.8 million in investor equity from RBC Community Investments for the development, according to the developer.
"The LIHTC program funding allows developers to obtain equity for their projects by selling the tax credits to investors," said MFA Chief Housing Officer Donna Maestas-DeVries. "The investors receive a reduction in their federal income taxes over a ten-year period and New Mexico gains more affordable housing. It is a win-win situation all around."
Laguna #3 will include new construction of three buildings that include a total of 20 modern, Pueblo-inspired townhomes consisting of 12 two-bedroom units and eight three-bedroom units. Since the project was intentionally designed for families with children, the buildings were designed to mitigate excessive noise and the development will include an attached community building, a basketball court and several accessible playground areas.
The 1,308-square-foot community building will offer space for supportive services and allow for general residential use such as gatherings. The building will offer onsite services at no charge to the tenants that will include health and nutrition classes, health screenings, computer trainings, tutoring, youth character building, and financial literacy classes. The project was designed by Travois Design, the developer is the Laguna Housing Development and Management Enterprise and the builder is Pavilion Construction.
In 2022, six projects received a total of $6 million in tax credit funding from MFA and are set to create a total of 284 units of affordable housing across the state. In addition to funding the Laguna #3 development, the 2022 tax credit funding is also supporting the new construction and rehabilitation of existing developments in Albuquerque, Las Cruces and Rio Rancho.
MFA, which administers the LIHTC program, receives an annual allocation of tax credits that is awarded to housing developers through a highly competitive process. In the 20-year history of the program, MFA has awarded over $137 million in tax credits, resulting in over $1.25 billion in funding for affordable housing projects that created or rehabilitated 18,599 units of affordable housing.
Created by the Tax Reform Act of 1986, the federal LIHTC program gives LIHTC-allocating agencies, such as MFA, the annual budget authority to issue tax credits for the acquisition, rehabilitation, or new construction of rental housing targeted to lower-income households.
There is currently a statewide shortage of 32,000 units for renters making less than 30 percent of area median income, according to a study commissioned by the MFA-led Housing New Mexico Advisory Committee. In addition, 218,471 New Mexico households were identified as "cost burdened" – spending more than 30 percent of their income on housing costs. This included 100,858 households identified as "severely cost-burdened" – spending more than 50 percent of their income on housing.
In 2022, MFA provided $136.8 million in funding through tax credit awards and an additional $62.2 million in grants, loans and bonds to create just over 1,000 rental apartments and single-family homes that were constructed or rehabilitated.