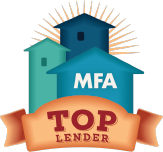 MFA Recognizes Top 2022 Metro and Rural Lenders
As part of its annual lender recognition program, the New Mexico Mortgage Finance Authority (MFA) has named Kerri Howlett with Major Mortgage the 2022 Rural Top Lender and John Gabaldon with Waterstone Mortgage the 2022 Metro Top Lender.
"We'd like to extend our sincerest gratitude to our outstanding lending partners and all of the hard-working escrow officers, title companies, appraisers, home inspectors and insurance agents and everyone else who plays a role in originating MFA loans," said MFA Executive Director and CEO Isidoro "Izzy" Hernandez. "Last year, thanks to their support, we helped more than 2,900 New Mexico families become homeowners through our programs that provide down payment and closing cost assistance as well as competitive interest-rate mortgages."
Each year the recognition program honors only one top lender in each category as well as multiple lenders in the platinum, gold and silver tiers, based on the number of loans each partner originated in 2021. As part of the recognition, lenders receive a commemorative certificate and yearlong recognition via a digital badge on the MFA website.
"Without the help of our dedicated MFA-approved lenders and their teams, MFA's homeownership programs would not be possible," said MFA Chief Lending Officer Jeff Payne. "We're fortunate to work with such a supportive and collaborative community of partners who help us work towards our goal of housing New Mexico."
In addition to the top lender award, the annual awards program has three recognition tiers for rural lenders: Rural Platinum, for lenders who originate 20 or more MFA loans; Rural Gold, for lenders who originate 15 or more MFA loans; and Rural Silver for lenders who originate ten or more MFA loans. The 2022 Platinum Rural Lenders included: Kathi Giguere, Donna Cline, Priscilla Lara, Dani Alpers, Vicki Lucero, Monica Creason, Donice Barnes, Brent L Schreurs, Nancy Ellis, Lee Ann Bain and Nikki Sandoval-Belt. The Gold Rural Lenders included: Travis Sailley, Jan Hart, Isaac Morris, Cathy (Mary) LaRock, Amber Fisher, Ted Bishop, Davin Jacquez and Heather Jones-Romine.
The program also has three recognition tiers for metro lenders: Metro Platinum, for lenders who originate 25 or more MFA loans; Metro Gold, for lenders who originate 20 or more MFA loans; and Metro Silver for lenders who originate 15 or more MFA loans. The 2022 Platinum Metro Lenders included: Tabitha Gallegos Kahn, Martin "Marty" Padilla, Steve Sheldon, Christine Turpen, Chris Russo, Maria Phillips, Karen Dee Powell, Renee Maestas, Amber Bennett and Debbie Bulcock. The Gold Metro Lenders included: Melvin Vallejos, Bernadette Sanchez-Wiegel, Damian Sanchez, Jessica Haselby, Luke Gutierrez and Sarah Gymr-Maez. The Silver Metro Lenders included: Charles Olguin, Heather Daley, Ken Yelin, Nickolas Mendoza, Oscar Medrano, Chris Napier, Iris Guzman, Viviana Montoya, Matthew Berg, Elizabeth O'Daly, Jake Canales, Chris Maxwell and Lou Layne. The Silver Rural Lenders included: Marco Milton, Lindsay Rollins, Lisa Webb, Jennifer Hardin, Dustin Lambirth, Kyler Breen, Joe Baca, Patricia Carrillo, Robert Rodriguez, LeAndra Boyd, Jayson Kringel and Phil Chavez.
Lenders who operate within the Albuquerque Metropolitan Statistical Area (MSA) are considered for the Metro Lender recognition program and lenders who operate outside of the Albuquerque MSA are considered for the Rural Lender program.
To view a list of all MFA-approved lenders, visit: housingnm.org/homebuyers/mfa-participating-lenders