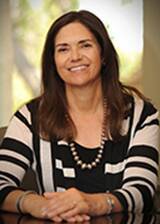 MFA Welcomes Dr. Patricia Sullivan as Newest Board Member
The New Mexico Mortgage Finance Authority (MFA) recently welcomed its newest member, Dr. Patricia Sullivan, to the MFA Board of Directors with a swearing in ceremony at the MFA offices, 344 Fourth St. SW. In addition to serving as a current member of MFA's Tax Allocation Review Committee, Sullivan also previously served as an MFA board member from 2000 to 2004.
"Dr. Sullivan brings a wealth of knowledge, expertise, and passion for MFA's mission that will be a valuable addition to an already outstanding board," said MFA Executive Director Izzy Hernandez. "Her insight and perspective as a committee member and past board member will also be helpful as we work to address the complex housing needs of the state."
In addition to serving on the MFA Board, Sullivan serves as the Associate Dean of Outreach and Recruitment for the New Mexico State University College of Engineering, board member for Enchantment Land Certified Development Company, and the Comissioner of the Western Interstate Commission on Higher Education.
"It is an honor to join this amazingly dedicated team of individuals to address critical housing needs across the state," said Sullivan. "With the numerous challenges brought on by the COVID pandemic, meeting these needs is more important than ever."
Sullivan has an extensive background in energy policy and renewable energy integration and holds a Ph.D. in industrial engineering with a focus on renewable energy regulatory policy, a master's degree in public utility economics and a bachelor's degree in biology, all from NMSU. Sullivan's term on the MFA Board will run from Oct. 8, 2021 to Feb. 17, 2022.
"Dr. Sullivan is joining the board at a pivotal time. The organization, and the demand for our services, continues to grow year-over-year," Hernandez said. "Helping to ensure access to safe, quality, affordable housing is a critical issue throughout the country, so the work this board does has a far-reaching impact across the state and beyond."
As a self-supporting quasi-governmental agency, the MFA has a board composed of several governor-appointed officials and a variety of business and community leaders. In addition to Sullivan, the Board is composed of: Chair Angel Reyes, who also serves as President of the Centinel Bank of Taos; Vice Chair Derek Valdo, who also serves as CEO of AMERIND Risk; Treasurer Rebecca Wurzburger, who also serves as a strategic planning consultant; New Mexico Lt. Governor Howie Morales; New Mexico Attorney General Hector Balderas; and New Mexico State Treasurer Tim Eichenberg.