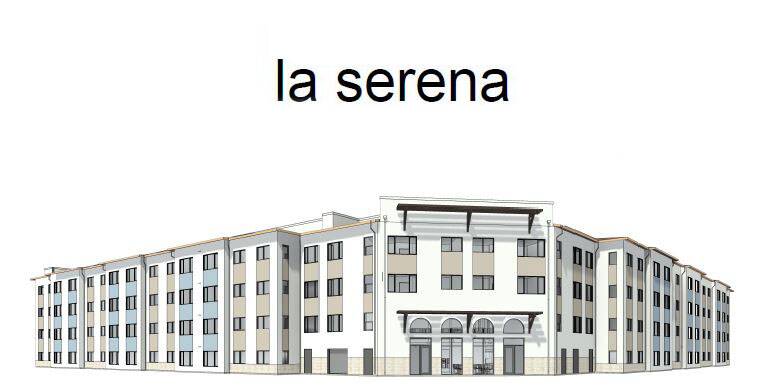 New Mexico Mortgage Finance Authority Board of Directors approves $3.3 million for La Serena Apartments from New Mexico Housing Trust Fund and other funding sources
ALBUQUERQUE, N.M. – The New Mexico Mortgage Finance Authority (MFA) Board of Directors approved $3.3 million in funding at its September meeting for the new construction of La Serena Apartments, an affordable senior housing community in northwest Albuquerque for individuals aged 55 and older. The project will be funded in part through loans from the New Mexico Housing Trust Fund ($1 million), the National Housing Trust Fund ($1.5 million) and HOME ($800,000), which is a federally funded program under Housing and Urban Development.
MFA has also allocated funding for this project from the federal Low-Income Housing Tax Credit program in the amount of nearly $14.9 million in tax credits over a 10-year period. The total development cost of the project is just over $31 million, meaning MFA is contributing approximately 53% of the financing for the development.
La Serena Apartments – a Supportive Housing Coalition of New Mexico-Thomas Development partnership – will consist of 100 units of multifamily affordable housing for seniors, including 60 one-bedroom apartment units and 40 two-bedroom apartment units, as well as:
Washers and dryers in each unit
Elevator
Fitness room
Business center
Meeting room for support services or other counseling services
The building will also feature a dog park, raised community gardens, a fenced perimeter with a security gate, private decks, patios and outdoor locking storage. The project will be consistent with Enterprise Green Building Standards.
"Considering the large need for affordable housing in the area, La Serena Apartments will be a welcomed addition to the community and will provide quality, safe housing for seniors," said Isidoro Hernandez, MFA Executive Director/CEO. "I'm grateful the MFA Board of Directors is supportive of this project and many other projects made possible by the New Mexico Housing Trust Fund, the National Housing Trust fund and HOME."
Laura Chavez, Supportive Housing Coalition of New Mexico President/CEO, said the demand for more affordable housing is more apparent than ever before, not just for those in need, but for the community overall.
"Housing options for seniors is particularly vital, as New Mexico has a higher percentage – 34% – of senior households than the country overall and just over 30% in Bernalillo County alone," said Chavez. "Safe housing fosters safer streets and safer neighborhoods for all. And by building homes, we also create more jobs, build economic growth and create opportunities."
Construction is expected to begin by the end of 2023 and is expected to be completed by the end of 2025.
For more information about MFA's Housing Development opportunities, please visit https://housingnm.org/developers or call 505-843-6880.