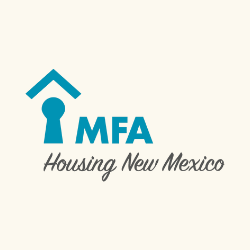 Passage of Senate Bill 134 Set to Help MFA Address Growing Affordable Housing Needs
ALBUQUERQUE, NM — The New Mexico Mortgage Finance Authority (MFA) will soon be able to help finance the construction, rehabilitation, and weatherization of thousands of additional affordable homes for low-and-moderate-income New Mexicans, with the recent passage of Senate Bill 134 in the New Mexico House and Senate. The bipartisan legislation, sponsored by Sen. Nancy Rodriguez (Santa Fe) and Rep. Nathan Small (Las Cruces), will dedicate 2.5 percent of the annual severance tax bond capacity for the New Mexico Housing Trust Fund, which is administered by MFA.
"Thanks to the tireless efforts of Senator Rodriguez and the support of Representative Small, this investment in affordable housing will help transform the lives of countless generations of New Mexicans," said MFA Executive Director and CEO Isidoro Hernandez. "This funding is the crucial and consistent investment needed to help address the growing housing needs of the state, so we're grateful for all of the support it took to get this much needed funding."
To date, the New Mexico Housing Trust fund, has leveraged 26-to-1 the approximately $27 million dollars the state has invested in the fund since it was created in 2005. This funding generated the development of 4,532 affordable housing units with an economic impact of $580 million across the state and more than $3.3 million in COVID-19 assistance being provided to 417 New Mexican households.
"A real lack of affordable housing has been a problem in our state for many years," said Sen. Nancy Rodriguez. "In the last few years and especially during this pandemic the problem has only gotten worse. This measure will ensure that we have recurring, sustainable housing funds so direly needed across the state – for years to come."
The new recurring funding is expected to generate an estimated $27 million in dedicated funding for the New Mexico Housing Trust Fund starting in fiscal years 2024. Historically, the fund has received investments nine of its seventeen years with eight years of no funding.
"Safe and affordable housing is transformative for New Mexicans. With over two hundred thousand New Mexico households facing extensive cost burdens, and a shortage of 32,000 low-income housing units, now is the time to dedicate resources to new construction, energy efficiency and rehabilitation," said Rep. Nathan Small.
A study developed for the MFA-led Housing New Mexico Advisory Committee, identified a statewide shortage of 32,000 units for renters who were making less than 30 percent of area median income. The study also found that 218,471 households were "cost burdened," which is defined as spending more than 30 percent of their income on housing costs. Of those, 100,858 were considered severely cost-burdened, meaning they spend more than 50 percent of their income on housing.
The Housing New Mexico Advisory Committee, a group of organizations from all different sectors of the housing industry, was established in the fall of 2021 with the purpose of fostering collaboration, problem solving, and breaking down the complexities of the housing market. The group aims to identify and understand housing priorities for New Mexico to determine practical, policy-driven solutions to address housing needs.
Signaling her support for the legislation, Gov. Michelle Lujan Grisham said in a statement, "We know there is a dearth of affordable housing options in our state, and I am in full support of this legislation, which will provide $24 million annually to help address this critical shortage. Everyone in our state deserves a safe, affordable and comfortable place to live, and this dedicated funding stream will make a real difference in the lives of New Mexicans, especially in rural areas. I'm grateful to Sen. Nancy Rodriguez and Rep. Nathan Small for sponsoring this important legislation."