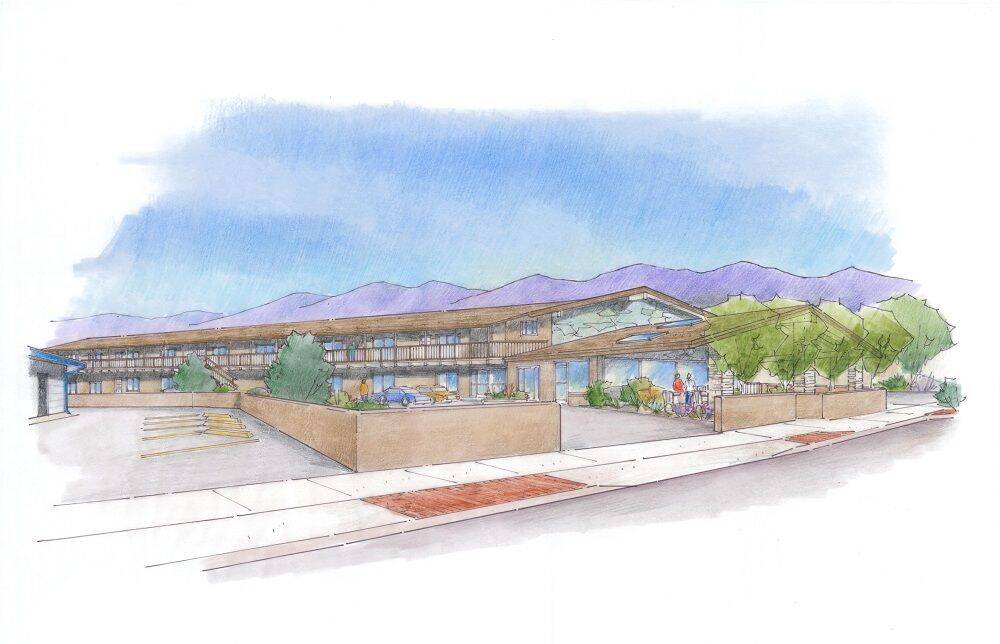 Housing project funded by New Mexico Mortgage Finance Authority's NM Energy$mart Weatherization Program featured at D.C. event
WASHINGTON – A weatherization project funded by the New Mexico Mortgage Finance Authority (MFA) was featured at the Capitol Visitor Center in Washington D.C. as part of the 2023 Annual Weatherization Day Celebration Oct. 25. The Lamplighter Inn in Santa Fe will receive energy-efficient retrofits through MFA's NM Energy$mart Weatherization Program. The hotel was purchased last year by Bella Luz Apartments, a partnership between The JL Gray Company and Anchorum St. Vincent, with Anchorum St. Vincent serving as the majority owner.
The NM Energy$mart Weatherization Program's primary goal is to assist low-income households in reducing their energy consumption, lowering costs and improving their health and safety by implementing various energy-efficient measures in their homes. MFA administers the program through community-based nonprofit organizations offering statewide services. ICAST (The International Center for Appropriate and Sustainable Technology) is MFA's service provider for multifamily buildings and will implement the weatherization project at the Lamplighter-Bella Luz affordable housing property.
The New Mexico project was one of nearly 10 projects featured at the 47th annual event, representing initiatives that received a Sustainable Energy Resources for Consumers Grant from the U.S. Department of Energy (DOE).
"MFA and ICAST partnered in pursuit of the Sustainable Energy Resources for Consumers (SERC) grant and were successful in attaining the award," said Troy Cucchiara, one of MFA's Green Initiatives Managers. "The SERC grant allows for the expansion of materials, benefits and renewable energy technologies that are not currently covered under the regular Department of Energy funding for weatherization. For this first project, the motel that is being converted to housing will include solar panels, solar storage, energy management systems and smart grid technologies for a total of 68 units. The project will also utilize weatherization funds for cost-effective energy efficiency measures. The goal is to bring the project as close to net-zero energy usage as possible and that the tenants will be safer, healthier and more comfortable."
Several legislators spoke at the event in D.C., including Rep. Marcy Kaptur, D-Ohio, Sen. Jack Reed, D-R.I. and Rep. Paul Tonko, D-N.Y., as well Anna Garcia and Henry McKoy with the DOE and representatives from the National Association for State Community Service Programs, Interstate Renewable Energy Council, National Community Action Partnership and the National Community Action Foundation.
The NM Energy$mart Weatherization Program is funded by the DOE, Low-Income Energy Assistance Program, New Mexico Gas Company, Public Service Company of NM, New Mexico Housing Trust Fund and El Paso Electric. "Weatherization" is specific to DOE's Weatherization Assistance Program, which was established by Congress in 1976, and "Energy$mart" is specific to New Mexico's program. MFA has administered the Energy$mart weatherization program in the state since 1997.
Energy-efficient projects planned by ICAST at Bella Luz include:
Solar panels
Battery storage
Heat pumps
Appliances
Lighting upgrades
Energy-management systems
Building envelope
Upon the completion of the Lamplighter-Bella Luz development project, the former hotel will feature 68 units of affordable housing. Leases will be reserved for those earning 80% of the area median income or less, with 25% of the units set aside for those with special needs requiring supportive services to remain stably housed.
For more information about the NM Energy$mart Weatherization Program and to determine eligibility, please visit https://housingnm.org/home-repair-and-energy-efficiency/energymart-weatherization-assistance.