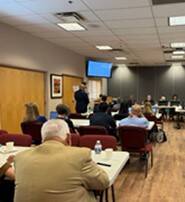 MFA Advances Housing Initiative and Expands Collaborative Efforts During Board Meeting in Taos, NM
On June 21, 2023, the New Mexico Mortgage Finance Authority (MFA) staff and Board of Directors held the monthly board meeting at Kit Carson Electric Cooperative, Inc. in Taos, New Mexico. The meeting covered various housing-related topics, including market opportunities, funding awards, and a tour of the DreamTree Project. Among the attendees were stakeholders such as Senator Roberto Gonzales, Mayor Pascualito Maestas, City Manager Andrew Gonzales, Town Council Member Marietta Fambro, , County Commissioner Darlene Vigil, Brent Jaramillo, Taos County Manager, Catherine Hummel, Executive Director of DreamTree, Lisa O'Brien, Executive Director of Taos Housing Partnership, and Sonya Struck, Community Officer of LOR Foundation.
During the meeting, Stephen Martinez and Eric Martinez, the General Partner and Government Relations & Partner from YSM Development Advisors, delivered a presentation on Single Family Development Opportunities in New Mexico. They provided valuable insights into the distinctions between affordable housing and workforce housing, discussed current challenges in the housing market, and highlighted opportunities to address these challenges. They reported over 200,000 New Mexican homeowners and renters are cost-burdened, meaning they pay more than 30% of their income for housing, and 40% of these New Mexicans pay over 50%.
During the meeting, the MFA Board of Directors approved $1.3 million in awards for the Housing Opportunities for Persons with AIDS (HOPWA) program for two organizations: Southwest CARE Center and Alianza of New Mexico. The HOPWA program is a federal initiative dedicated to assisting low-income individuals and families affected by HIV/AIDS through Tenant Based Rental Assistance, Short Term Rent, Mortgage and Utility Assistance, and Permanent Placement Assistance.
The MFA Board of Directors also approved funding for the Three Sisters Apartments, a 70-unit apartment complex located in Las Cruces, New Mexico, that is being developed by Chelsea Investment Corporation. The project was approved for $7 million in funding, with half coming from the Coronavirus State and Local Fiscal Recovery Funds and the remaining half awarded from the New Mexico Housing Trust Fund.
The meeting also highlighted the DreamTree Project, a long-standing partner of MFA, who provided a tour of their facilities in Taos. The DreamTree Project provides housing and compassionate services to youth, adults, and families experiencing housing instability. The organization receives funding from eight various sources, including MFA, for programs that include the Emergency Youth Shelter, which operates 24/7 and offers a safe haven for individuals aged 12-17, and the DreamTree Apartments, which provides independent living spaces for young adults aged 16-24 who are involved in school or work. DreamTree participates in the National Safe Place Program – a nationwide network of designated businesses, teen centers, clinics, and other organizations that offer a safe and secure environment for youth in need of assistance.
Additionally, the DreamTree Project is the lead agency in the development of Taos NEST (Navigating Emergency Support Together), a program aimed at enhancing community members' access to support services and emergency shelters. NEST will be the first and only one stop crisis intervention center in Taos. In April 2023, MFA provided $1.25 million of Coronavirus State and Local Fiscal Recovery Funds for the NEST project. The organization is currently in the process of obtaining permits, addressing zoning requirements, and completing renovations. They plan to open in the Fall of 2023.
"Discussion and collaboration are where ideas are born," said Donna Maestas- De Vries, MFA's Chief Housing Officer. "It is important to hear the opinions of all stakeholders and really take them into consideration to better our understanding of how to serve the people in our state."
The collaboration between housing industry stakeholders was highly successful in initiating discussions and fostering innovative ideas. MFA is planning on holding additional board meetings outside of Albuquerque to provide stakeholders from different regions of New Mexico with the opportunity to share their successes and needs in person, and actively engage in these conversations.
Isidoro Hernandez, MFA's Executive Director/CEO commented, "We look forward to continuing and expanding our partnership with Mayor Maestas, Taos Housing Partnership, DreamTree and other stakeholders to meet the housing needs in this beautiful community. The leadership, collaboration and commitment between the various entities is a recipe for success."
For more information regarding the June 2023 Board Meeting or future Board Meetings, please visit: https://housingnm.org/meetings-events-notices